We are no longer selling the V8 Conversion kit you can learn more about it at www.awesomehenry.com

The V8 Converstion kit is a custom installation package to install a 100 horse flathead Ford V8 engine in an "N" series Fordtractor.


The V8 Conversion kit consists of 2 specially made steel pieces to complete the change over of your stock "N" series Ford tractor to a powerfull V8 driven machine.
| | |
| --- | --- |
| 1. | Bell housing adapter plate that couples the back of the V-8 to the original 4-cylinder engine's transmission bell housing. The adapter plate is drilled and tapped so the bolt pattern on the back of the engine matches the front of the transmission belt housing. |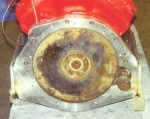 | | |
| --- | --- |
| 2. | U-shaped support frame that runs from the adapter plate and wraps around the front of the engine. It will support the bigger engine and gives you a place to bolt the front axle support frame and also the front engine mounts. |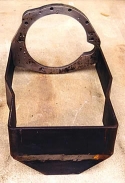 | | |
| --- | --- |
| The V8 Converstion can be done with our converstion kit using your "N" series Ford tractor, a V8 engine from 1948 to 1953 Ford or Mercury Truck or 1949 to 1953 Ford or Mercury Car, a large spline (10 or 11 inch) clutch and a flat head flywheel pressure plate. With these components and some time and fabrication you can have your own custom V8 "N" series Ford. | |
Noteable Modifications include:
Your tractor hood will need modification to accomodate the larger engine. Tractor on the left displays widened hood, right tractor displays raised hood.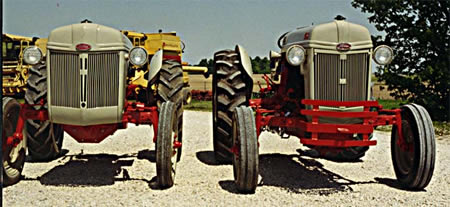 Your tractors radiator will need customized to accomidate the addtional cooling your NEW V8 will need to perform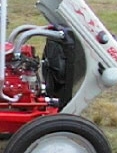 (Here is just one creative designs that has been used)
Your tractors fuel tank will need to be relocated because of limited space under the hood.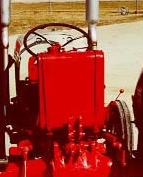 (Here is just one creative design that has been used)